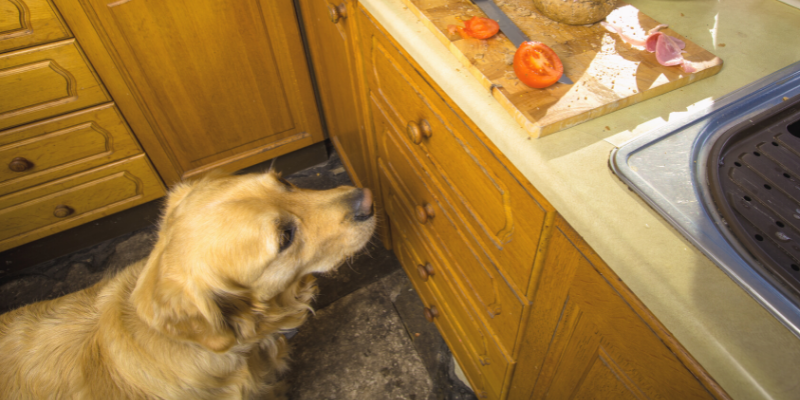 Two years ago, a couple of days after Christmas, Pepper seven-year-old female Schnauzer was acting quieter than usual. She had left half her breakfast untouched, which for Pepper was highly unusual. Over the next few hours, Pepper became increasingly lethargic and began vomiting. Pepper's concerned owner, Bec, decided to take her to the vet for an assessment.
Pepper was examined and found to be dehydrated with a very sore tummy. She was still nauseous, retching as her tummy was gently palpated. The vet asked Bec if Pepper might have had access to any Christmas leftovers, citing a few common culprits, such as:
Fatty leftovers

– such as Christmas ham, turkey or nuts – which can cause gut upsets or pancreatitis

Cooked bones

, which can cause gut damage, obstructions or constipation

Potentially toxic foods

– such as raisins, grapes, chocolate, coffee or any foods sweetened with xylitol – which can cause vomiting
Bec told the vet that on Boxing Day, she had given Pepper a bowl of leftover Christmas ham as a special treat. She admitted that Pepper could have also sneakily eaten other leftovers out of the family's waste bin, including the string netting from a turkey. 
Blood tests showed that Pepper had a mild elevation of her liver parameters, and her blood sample was unusually cloudy and fatty. An extra in-house blood test to screen for pancreatic inflammation indicated a positive result. Thankfully, an x-ray did not uncover any signs of ingested foreign objects.   
Bec was advised that Pepper was likely suffering from pancreatitis, a painful inflammation of the pancreas that can be triggered by a fatty meal, with symptoms including lethargy, vomiting, diarrhoea and tummy pain. Unfortunately, Schnauzers are particularly predisposed to this condition.
Pepper was treated for her pancreatitis and was much brighter the next day, once again showing her characteristic interest in food. After two days in hospital, Pepper was sent home with anti-nausea medication, pain relief and a prescription low-fat diet to help her inflamed pancreas to settle. 
Thankfully, Pepper made a full recovery. Now, Bec is extra careful with the foods and treats she gives to Pepper, to ensure Pepper never goes through that again.
So remember, whether it's Christmas Day, Boxing Day or any other day of the year, fatty leftovers are simply a no-no for your pet – and always ensure your table scraps are securely stored in a bin away from any covert diners.